5 Latest Vehicle Safety Features You'll Be Thankful For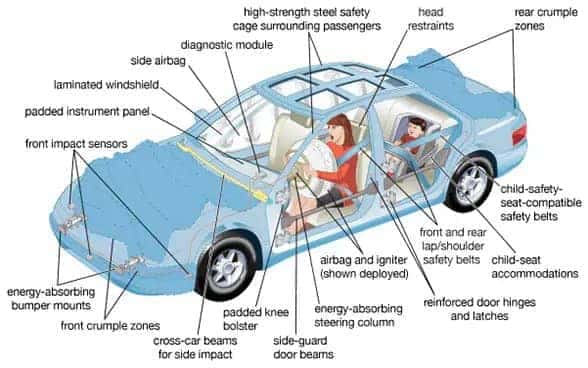 Seat belts used to be the only safety feature a vehicle had to offer.
Thankfully, times have changed.
The advancement in technology means that today's vehicles are safer than ever before.
Take a look at the latest available safety features that come standard in many vehicles, as well as some that are available as options.
Backup cameras
Backup cameras aren't exactly new to the scene, but starting in 2018, they'll be a requirement for every car that's manufactured.
These literal life-savers keep you from backing into people, animals, or objects and eliminate blind spots.
Blind spot protection
Blind spots have caused many serious accidents.
If you attempt to turn or put your turn signal on while another car is in your blind spot, you'll receive an auditory warning and a light will illuminate.
You'll also be alerted by a warning light if a car is passing through your blind spot.
Most newer cars will come with standard blind-spot protection.
Lane departure warning
If you shift outside of your lane, you'll hear an audible warning.
The technology uses a camera on the side mirrors.
Lane departure warning comes standard on many vehicles.
Forward collision warning
This warning system uses sensors on the front of the vehicle to alert you if you get too close to a car or another object in front of you.
It gives you a chance to break before making contact.
At this point, forward collision warning doesn't come standard. It's usually offered as an add-on along with a package of other enhanced safety features.
Automatic crash notification
What happens if you're in a serious accident and you're incapacitated to the point that you can't call 911?
Automatic crash notification detects that your vehicle has been in a collision and alerts emergency services, also providing your location.
Get your safety on
The advances in vehicle safety could protect you and your precious cargo as you travel to city streets and highways alike.
Make sure your next car is well-equipped with the latest available safety features.
See the folks at Serra Mazda for help!