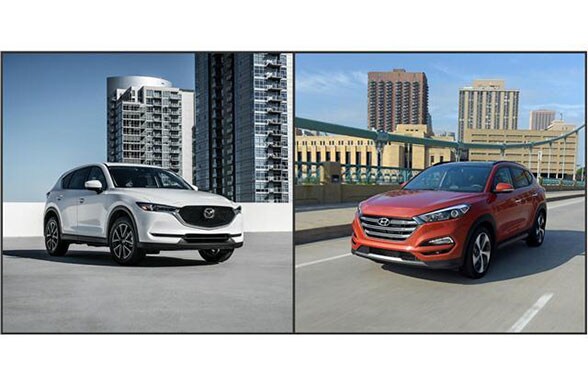 The Hyundai Tucson and the Mazda CX-5 are among the highest rated compact crossover SUVs on the market.
They're both worthy competitors that have different strengths. Doing a comparison of the two may be able to help you decide which of these vehicles suits your needs.
Let's take a look at some of the stand-out features of each of these crossovers.
Pricing
Both vehicles come in at a similar price. The base model Hyundai is a bit less expensive, while the Mazda is cheaper when you compare each loaded.
Of course, the different options and extras you add or go without will result in varying price points.
Fuel efficiency
The Mazda CX-5 and the Hyundai Tucson both get decent gas mileage, though the Mazda creeps to the top. It earns 24 mpg while driving in the city and 31 mpg on highway travel.
Comfortability and interior
These two compact crossovers are very similar in terms of seating and interior space. They both seat 5 passengers comfortably and offer the same level of roominess.
The Mazda wins for having an interior that's much more upscale than the Hyundai. The seats are comfortable and soft to the touch and the cabin effectively blocks out almost all the road-noise.
Technology
The 7-inch touchscreen that comes standard on the Mazda is user-friendly, can be controlled by voice-commands, and is overall superior to that of the Hyundai. Two USB ports, HD Radio, and Bluetooth are standard, while comparable features in the Tucson can only be obtained with an upgrade.
Results
While these two vehicles are close contenders, the Mazda CX-5 comes out on top. The advanced technology, comfortable quiet ride, and fuel efficiency add up to a winner.
Contact Park Mazda for more information about the Mazda CX-5.