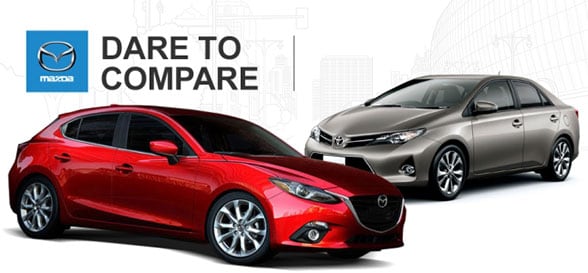 If the word "sedan" gives you mental images of boring, unexciting vehicles it's time to update your idea of what a modern sedan really is.
The Mazda3 and the Toyota Corolla are anything but mundane.
The problem is that you're probably only going to buy one new car at a time, so which one should it be?
Doing a little comparison "shopping" may help you make the decision that's just right for you.
Let's see what each vehicle has to offer and determine which one comes out on top.
Style
While each of these cars has a sleek, modern look, the Mazda3 has a more premium feel—inside and out. In fact, it's one of the best-looking small sedans currently on the market.
Comfort
Overall, though there isn't a drastic difference, the Mazda3 does have a roomier interior.
Keeping in mind that these are both smaller vehicles, the Corolla has very limited headroom for the backseat passengers, while the Mazda3 offers a bit more.
Both vehicles provide a smooth, even ride in seats that are adequately comfortable.
Fuel economy
Both the Mazda and the Toyota will be pleasing at the pump, though the Mazda3 gets better mileage, both in city driving and on the highway. A few miles difference may not seem like much initially but can add up to big savings over time.
Result
The Mazda3 and the Toyota Corolla are both small, sporty sedans that handle well and are fun to drive.
The Mazda3's extra interior space, attractive exterior, and better fuel economy give it the edge it needs to move to the top.
If you're ready to check out a Mazda3 for yourself, we'd love to help! Call us at Park Mazda to make an appointment for a test drive today!