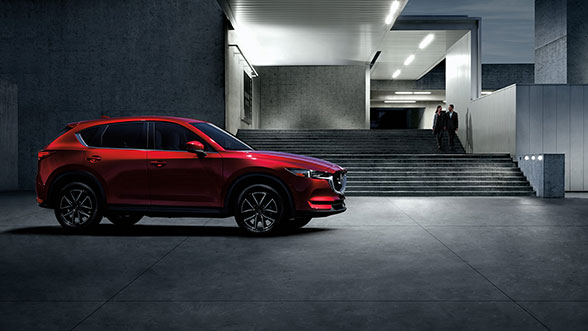 2017 Mazda CX-5: A New Model for a Trusted Brand
Joining the ranks alongside winners like the Mazda CX-9, this compact SUV provides a lot of bang for your buck.
Here are some things to know about the sleek, redesigned CX-5.
Exterior
The outside of this Mazda SUV is nothing short of fabulous. Let's take a look at some of the highlights.
This model sits lower to the ground and the position of the A-pillars has been moved back in order to provide a better line of sight to passengers and the drive.
The headlamps have been narrowed in order to give the front end a fantastic sculpted look.
Mazda created a whole new shade just for this model, called Soul Red Crystal. While it was made for the debut of the CX-5, it will be available in other Mazda models in the future.
Some body changes have been made to increase safety. High-tensile steel should lessen the impact of a crash and a new system was implemented in order to keep the vehicle from rolling.

Fuel
Check out the CX-5 innovations in the area of fuel:
It's the first model to feature a diesel engine in Mazda's North American market.
It's slated to be one of the most fuel-efficient compact SUVs.
Diesel engines can be loud. Mazda has an answer for that issue with their Natural Sound Frequency and Natural Sound Smoother combine to soften the noise.

Interior
The inside of the CX-5 isn't a whole lot different from other models, but what it lacks in flash it makes up for in function. The controls are easy to see and simple to use.
It seats five comfortably and there is an option for the rear seats to be heated, and the infotainment screen has been raised from its previous position in order to be more easily seen and accessed.
If you're looking for a sleek, sporty, fun compact SUV, Park Mazda is ready to help you out! Give us a call today!