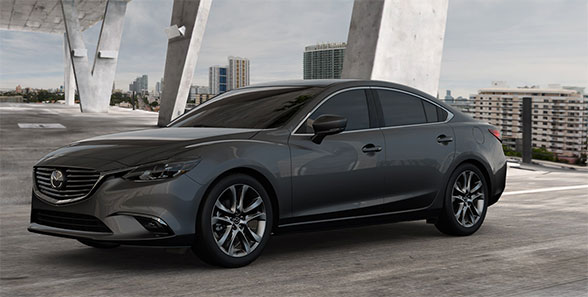 The 2017 Mazda6 doesn't look any different from its 2016 counterpart.
At least on the sleekly sophisticated outside.
A whole host of improvements have been made under the hood and in the interior, however.
Let's dig into what's new and how the 2017 Mazda6 is better than ever.
G-Vectoring Control
This is a new electronic widget that allows the Mazda6 to take corners with more agility.
iActive-Safety Assists
The 2017 model features a new camera that can now detect pedestrians, in addition to the other objects the earlier models already watched out for.
The system can now also detect traffic signs and the automatic braking function works between 9 and 99 miles per hour, which is up from 90 miles per hour at which it maxed out in the past.
Interior updates
While 2016 saw an extensive overhaul of the inside of the Mazda6, 2017 has brought some smaller, but nevertheless beneficial, updates.
Here's a rundown of what's new:
Heated steering wheel option.
Full-color TFT screen, replacing 2016's monochromatic display.
Pop-up, head-up display is also now in color and is more adjustable.
Head-up display is linked to the driver's seat memory function.
Thicker front door glass.
All seals and weatherstripping have been enhanced for greater noise control.

Premium package
The Mazda6 Grand Touring has taken luxury to a new level. Here are some of the options:
? Buyers can choose between black or almond-colored nappa leather seats.
? The map lights are now LED.
? The rear seats are heated.
Mazda has a reputation for continually improving their brand at a time when most companies wait a few years between such upgrades. The 2017 Mazda6 is a standout among mid-sized sedans of its class.
If you're interested in more information about fine Mazda products, give us a call today! The friendly folks at Park Mazda are ready to answer your questions and guide you into a new vehicle that's just right for you.