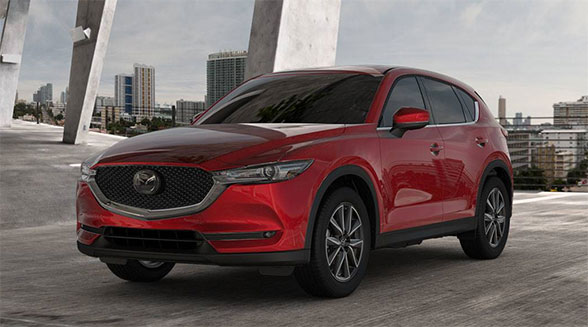 It's always a good thing when a vehicle seems more expensive than it actually is.
The 2018 Mazda CX-5 falls into that category.
It's the best looking and best driving crossover currently on the market.
Here's what's up with the CX-5.
What's new?
One of the coolest new features on this Mazda is the cylinder deactivation system.
This technology shuts down two of the four cylinders when the car is "cruising," which increases the fuel efficiency.
To add to the high-class, expensive feel, the 2018 model now comes with a leather-wrapped steering wheel and shift knob.
Most importantly, more active safety options come standard, even on the base model.
The highlights
Handling is superior, making the new CX-5 fun to drive
Looks more expensive than it is
Styling is gorgeous, inside and out
All-wheel drive is available, though it will cost $1300 extra

Safety features
Check out some of the ways your new Mazda will keep you safe.
Blind-spot monitor
Adaptive cruisecontrol
Lane-keeping assist

Gas mileage
These are averages across the different CX-5 versions.
24-25 mpg in the city, 30-31 on the highway, and a combined mpg of 26-28
The downside
A bit lacking in storage space
Available models and starting prices
Sport/AWD: $24,150/$25,450
Touring/AWD: $26,215/$27,515
Grand Touring/AWD: $29,645/$30,945

The bottom line
The Mazda CX-5 outshines the other vehicles in its class.
If you want a crossover that looks expensive but isn't, handles like a dream, and is enjoyable to drive, the CX-5 is a great choice.
At Serra Mazda, we've got a 2018 with your name on it!
Come on out for a test drive and experience the fun for yourself.