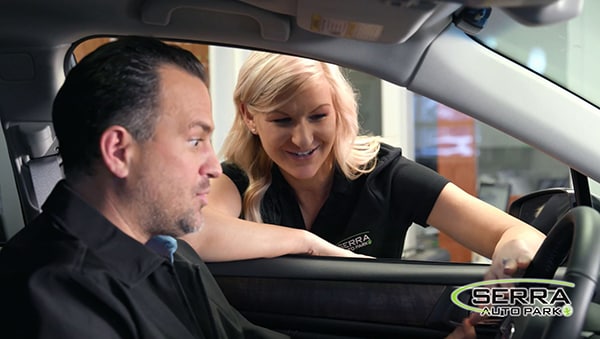 Buckle up.
Taking a test drive is probably the most important aspect of choosing a new vehicle.
To get the most out of the experience – and get a vehicle that's truly the best fit for you – there are some things you need to know.
Here are some questions to think about before, during, and after your test drive.
Before the test drive
Your experience with a vehicle begins before you even get in. Try to answer these questions.
Is the car easy to get into? If you bump your head or have to maneuver your body like a contortionist to get in, you may want to keep searching.

Is the seat easy to adjust? Take a moment to play with the seat controls. If it's too hard to find a position that's comfortable and gives you optimum visibility, give the car a pass.

Where are the important controls? Make sure you can easily locate the turn signals, lights, and windshield wipers.
During the test drive
Time to get on the road. Here's what to ask yourself.
How does the ride feel? Pay attention to how the steering feels, as well as how smooth the ride is. Trying to parallel park can be a great way to assess the ease of maneuverability.

Can you see well? You need to be able to see well in every direction. Don't forget the rear window, too. Determine where the blind spots are and if aspects like the trim on the windows impede your visibility too much for your safety and comfort.

Is the cabin noise too loud? You don't want a car that's too noisy for you to carry on a conversation with your passengers without shouting. With the stereo off, take a listen.

Is the climate control system effective? Check out the heat and the air conditioning. Make sure the controls are easy to understand and use.
After the test drive
After you've driven several vehicles, decide which one is the best fit for you and then you can start the purchase process with your salesperson.
If you're not sure, don't be afraid to take a day or two to mull it over.
When you're ready to pull the trigger, see the folks at Serra Mazda for help!