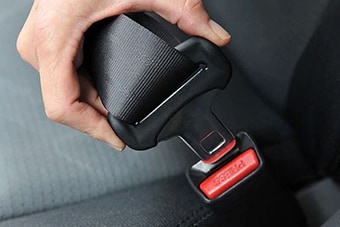 Editor's note: This post was originally published on 9/9/16 and has been updated for accuracy and comprehension.
Your seat belt is all about safety.
That's no secret.
What you may not have thought about is that your seat belts can take a beating.
Every time you grab the belt to buckle up, oils from your hands soil the material.
Spills from food or drinks combine with dirt to wreaks havoc on your seat belts.
If your seat belts are looking tired and dingy, it's time to clean them up!
How to clean your seat belts
Here are eight tips to follow to properly cleanse your vehicle restraints:
Tip #1
Pull one of the seat belts all the way out. Use a clamp to hold it in place.
Tip #2
Spray the fabric with a fabric-cleaning solution. Then, scrub the belt with a stiff brush.
Work your way back and forth over the belt, in the same direction that the material's fibers face.
Don't move in circles. Over time, the material may degrade with excessive force.
Tip #3
If the belt has a stain, you may want to use a stronger solution.
Combine an all-purpose cleaner with warm water, creating a 3-parts to 1-part solution. Dip the scrub brush into the mixture and then work it over the belt.
Try not to soak the belt in water and get it really wet, as it will take longer to dry.
You don't want to retract the belt back into the spool until it's completely dry to avoid mildew problems.
Tip #4
If you're dealing with seat belts that have a bad odor, use a mixture of warm water and baking soda to scrub the belt. Or you can try a mixture of dish soap, vinegar and warm water.
Tip #5
If you have a steam machine, this is an ideal way to clean the seat belts, as it won't get the belt too wet and it speeds up the drying time.
Spray the fabric cleaner on the material and then direct the steam toward the belt.
Tip #6
Use a dry towel and run it back and forth over the belt to soak up the water.
Tip #7
Repeat these steps to clean all the other seat belts.
Tip #8
Let the belts dry overnight before removing the clamps and retracting the seat belts.
Keep it clean
Follow these tips to maintain your seat belts' cleanliness on a regular basis.
If you'd like more car-cleaning tips or you're ready for a whole new ride, contact the friendly folks at serra Mazda today!