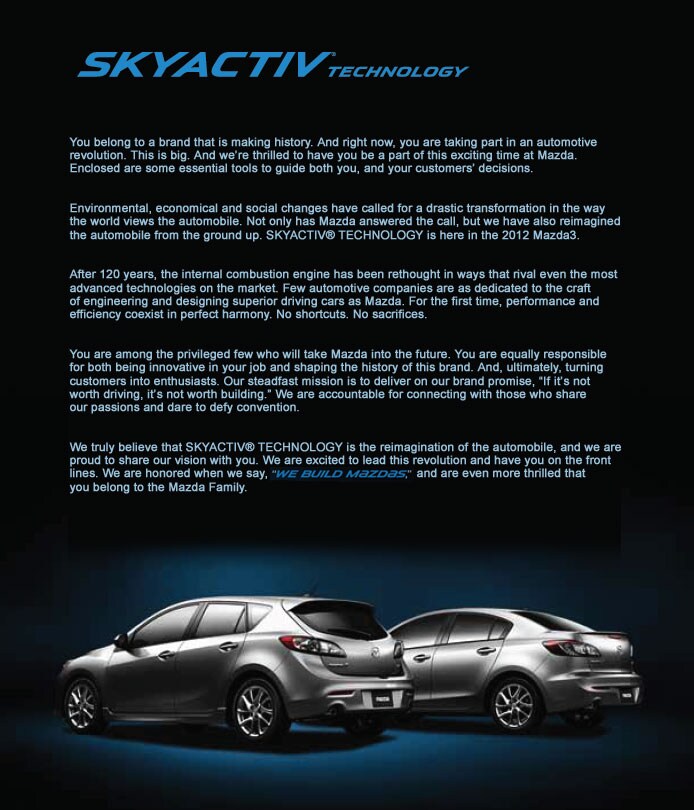 CLICK HERE TO DOWNLOAD THE COMPLETE .PDF DOCUMENT OF THE SKYACTIV LAUNCH MATERIALS

The Strategy: The Automobile Reimagined
SKYACTIV® TECHNOLOGY is a blanket term for Mazda's innovative new-generation technologies
that have been developed under our long-term vision for technology development, "Sustainable
Zoom-Zoom." It is a complete re-imagination of the automobile with a suite of technologies to
provide lower emissions, improved fuel economy and the fantastic driving performance Mazdas
are famous for. Built from the ground up, Mazdas with SKYACTIV® TECHNOLOGY will feature
all-new engines, transmissions, chassis and bodies. Mazda is the only automobile manufacturer
capable of implementing this complete overhaul across our entire lineup because of our size
and our passion for innovation.
Marketing Approach

Create platforms for all consumers to learn and experience the full
SKYACTIV® TECHNOLOGY story
Marketing Strategy
Use SKYACTIV® TECHNOLOGY as a proof point to strengthen our core philosophy if it's not worth driving, it's not worth building
Communicate to the consumer that Mazda is a brand that is socially responsible
Reinforce Mazda's innovative ability to positively impact society by delivering
quality, technology, environmental responsibility and exceptional driving dynamics no compromises
SKYACTIV® TECHNOLOGY Communications Positioning
Rejecting compromise demands imagination, the spirit to defy convention and a history
of pursuing a better way. This is Mazda's DNA.
With SKYACTIV® TECHNOLOGY, Mazda has re-imagined the automobile for ultimate
efficiency, proving that fuel economy, low emissions and outstanding driving performance
can coexist... in cars that are accessible to everyone.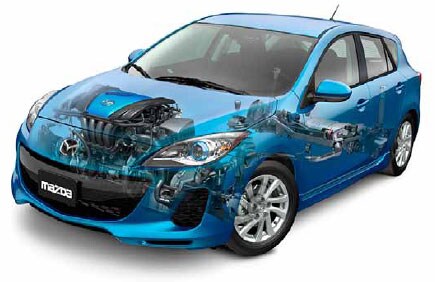 Technological Details

SKYACTIV® TECHNOLOGY is a reimagination of the automobile. For example, in the 2012 Mazda3
with SKYACTIV® TECHNOLOGY, there are no compromises. Not only does it drive like a Mazda
and look like a Mazda, but it also gets 40 mpg. And this is just the beginning?

SKYACTIV® TECHNOLOGY has arrived in the 2012 Mazda3


-SKYACTIV®-G

is a gasoline engine with the fuel efficiency of a diesel. It achieves
this efficiency without any compromise of performance
-15% better fuel economy
-15% improvement in low-rpm torque
- Lightweight, lively throttle response

-

SKYACTIV®-DRIVE

is an automatic transmission that boosts fuel economy
by improving torque-transfer efficiency
- Improved fuel economy (+4% ? 7% over current transmission)
- Combines the best attributes of modern transmissions for direct,
responsive feel
- Quick shifting and directly connected feel
- Smooth, easy launch control

-

SKYACTIV®-MT

is a lighter, stronger, smaller manual transmission
- Light, crisp shift feel
- Lightweight and compact
- Improved fuel economy (1% over current transmission)